Winners will be announced and honored November 17th in New York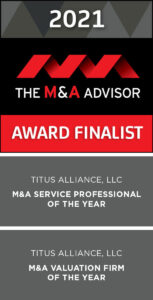 CHARLOTTE, NC / ACCESSWIRE / November 24, 2021 / Titus Alliance is pleased to announce it has been selected as a Finalist of the 20th Annual M&A Advisor Awards in the categories of Valuation Firm of the Year and Service Professional of the Year.
The Awards will be presented in-person at the 20th Annual M&A Advisor Awards Gala, a feature of the 2021 Future of Dealmaking Summit. The Gala will be held at the historic New York Athletic Club in midtown Manhattan on November 17, 2021. An independent judging committee comprised of top M&A industry experts will determine the ultimate recipients of the awards.
"Given the backdrop of uncertainty, and the tremendous activity over the past year, these award finalists represent the finest deals and professionals within the M&A industry," said Roger Aguinaldo, Founder of The M&A Advisor. "This period continues to be ripe with challenges, but also abundant with M&A activity. These professionals were able to navigate through a global pandemic, a distracting Presidential election and administration turnover, and a volatile economic turmoil, all the while executing transactions representing several hundred billions of dollars of enterprise value."
"On behalf of the team, we are honored and blessed to be selected as a Finalist for two categories this year," said Titus Alliance Managing Member, Justin A. Boyd. "It is humbling to have experts in the M&A industry acknowledge our hard work and client-centric efforts. In a challenging economic environment, this is a testament to our mission to provide holistic solutions that empower owners and executives to make smart, strategic, and meaningful decisions about their business."
ABOUT THE M&A ADVISOR
Founded in 1998, The M&A Advisor has built a leading global network of M&A, turnaround, and finance professionals across domestic and international dealmaking. Recipients of its prestigious awards are among the most respected financial professionals around the world. During the past two decades, M&A Advisor has established a legacy of showcasing emerging leaders, connecting pillars of the profession, and recognizing achievement throughout the community.
ABOUT TITUS ALLIANCE
Titus Alliance is a full-service transaction advisory firm with locations in Charlotte, San Francisco, and Los Angeles. The firm serves as trusted, financial advisors and valuation experts to companies for mergers & acquisitions, management buyouts, business appraisals, and valuation financial reporting requirements. We have a proven track record of delivering holistic solutions that empower clients to make smart, strategic, and meaningful decisions about their businesses. For more information, please visit www.titusalliance.com.
Media Contact:
Cami Lewis | Titus Alliance | 980-215-8513 | admin@titusalliance.com
SOURCE: Titus Alliance