The 20th Annual M&A Advisor Awards Were Presented in New York on November 17th, 2021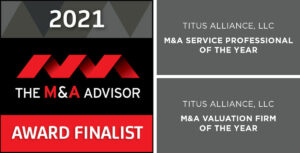 NEW YORK, NY / ACCESSWIRE / December 2, 2021 / The M&A Advisor announced the winners of the 20th Annual M&A Advisor Awards to a packed and energetic crowd at The New York Athletic Club on Wednesday, November 17th, during the 2021 Future of Dealmaking Summit.
"The award recipients represent the finest in the M&A industry this past year and earned these honors by standing out in a group of extremely impressive finalists," said Roger Aguinaldo, Founder of The M&A Advisor. "From lower middle market to multi-billion dollar deals, we are recognizing the leading transactions, firms, and individuals that represent the highest levels of achievement."
"Out of a field of six incredible Finalists, I am blessed to win Service Professional of the Year by The M&A Advisor," said Titus Alliance Managing Member, Justin A. Boyd. "This honor is an affirmation of our people-centric culture that allows us deliver tremendous results on multi-million dollar and highly complex transactions. We're looking forward to building on this momentum into the foreseeable the future."
Award winners are chosen from a pool of prominent nominees identified for their notable accomplishments. Evaluation of the nominees and selection of the winners was completed by an independent judging panel made up of prominent members and experts in the M&A, finance, and turnaround community.
In addition to Service Professional of the Year honors, Titus Alliance was also named Finalist for Valuation Firm of the Year alongside esteemed valuation firms that include Generational Group, Objective Capital Partners, Prairie Capital Advisors, Vantage Point, and VRC | Valuation Research.
ABOUT THE M&A ADVISOR
The M&A Advisor was founded in 1998 to offer insights and intelligence on M&A activities and has since been established as the premier global network of M&A, Turnaround and Finance professionals. Today, we have the privilege of presenting, recognizing the achievements of, and facilitating connections between the industry's top performers throughout the world with a comprehensive range of services. To learn more visit www.maadvisor.com.
ABOUT TITUS ALLIANCE
Titus Alliance is a full-service transaction advisory firm with locations in Charlotte, San Francisco, and Los Angeles. The firm serves as trusted, financial advisors and valuation experts to companies for mergers & acquisitions, management buyouts, business appraisals, and valuation financial reporting requirements. Titus has an award winning track record of delivering holistic solutions that empower clients to make smart, strategic, and meaningful decisions about their businesses. For more information, please visit www.titusalliance.com.
Media Contact:
Cami Lewis | Titus Alliance | 980-215-8513 | admin@titusalliance.com
SOURCE: Titus Alliance